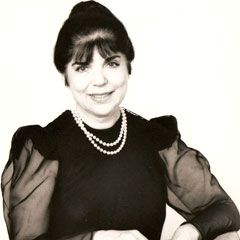 Eve Queler, the internationally renowned conductor, is recognized as a pioneer in the world of opera.
As a guest conductor of many European and South American orchestras, as well as through her work as music director of The Opera Orchestra of New York, she has conducted high-quality performances of seldom-heard operatic masterpieces, featuring internationally acclaimed stars.
Maestro Queler recently received the nation's highest honor for lifetime achievement in the field of opera, as the 2010 National Endowment for the Arts Lifetime Achievement in Opera award recipient. This award recognizes the distinguished work and accomplished career of Maestro Eve Queler.
Eve Queler has conducted over 100 operas in concert at Carnegie Hall. In addition, she has conducted worldwide, including engagements at the Kirov Opera in St. Petersburg, the legendary Teatro Colon in Buenos Aires, the Hamburg and Frankfurt Operas in Germany, the Australian Opera in Sydney and the Liceu  in Barcelona, Spain, to name a few. In September 2009 Eve Queler conducted the opening of the Bellini Festival at the Teatro Massimo Bellini in Catania, Sicily. And in July 2010 she made her debut at the Puccini Festival in Torre del Lago, Italy conducting Madama Butterfly.
Equally at home with symphonic repertoire, Maestro Queler has conducted numerous symphony orchestras including the Philadelphia Orchestra, Cleveland Orchestra, the Montreal Symphony, and the Orchestra Sinfonica Siciliana in Palermo, Sicily.
Among the many legendary opera singers Maestro Queler has conducted are Stephanie Blythe, Montserrat Caballe, Placido Domingo, Renee Fleming, Marcello Giordani, Dmitri Hvorostovsky, Aprile Millo, Renata Scotto and Dolora Zajick.
Ms. Queler is the recipient of numerous awards. In addition to the 2010 National Endowment for the Arts Lifetime Achievement award, she has received the Chevalier de l'Ordre des Arts et des Lettres (arguably the highest award presented by the French government),and the Sanford Medal, Yale University's highest Musical Honor.
For more information about working with Eve Queler, contact Robert Lombardo